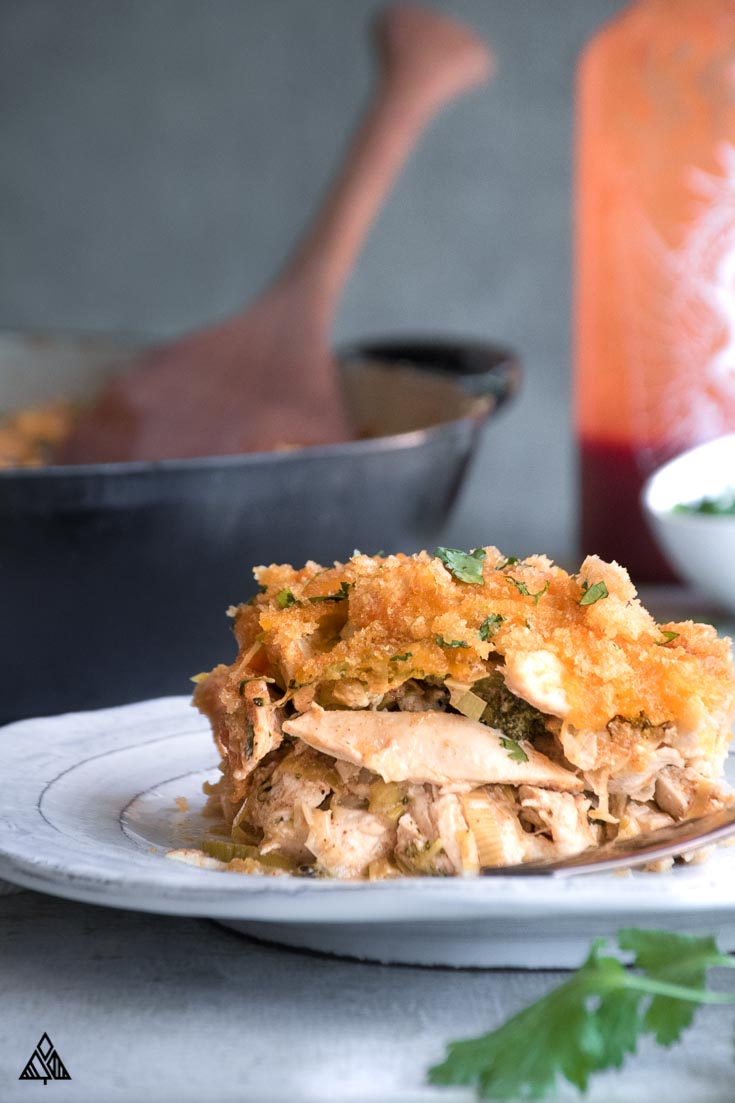 [no_toc]
Is there ever a bad time for low carb chicken casserole? 
I mean seriously, it's comforting, cheesy, easy to throw together, easy to meal prep, and everyone, I mean EVERYONE, absolutely loves it.
The proof is in the casserole dish… 
The first time I made this recipe, our party of two finished the entire dish in one sitting. Trust me, I'm not proud of this, I'm just sharing the evidence. It's simply irresistible! 
So, if you're in a low carb recipes funk or can't find low carb meals the whole family will actually eat and enjoy—then look no further friends. This low carb chicken casserole has got your name all over it! 
One of Those Low Carb Chicken Recipes for People Who Don't Like Chicken…
I'll be completely honest, I don't like chicken. 
I know, I know, it's crazy—I'd much rather eat steak, or lamb, or another other type of meat. But, chicken is an awesome source of lean protein, and it's extremely filling. Plus, low carb chicken recipes don't leave you feeling gross or greasy like a good old burger does… 
So, for my red-meat-loving-friends, you'll be happy to know this low carb chicken casserole gets a chicken hater stamp of approval! 
Low Carb Chicken Broccoli Casserole
Alright, so back to this low carb chicken broccoli casserole… 
As you probably know, most ingredients in traditional casserole dishes are high carbs—the noodles, the potatoes, even the milk. So, to make a healthy chicken casserole low carb, we'll make a few modifications: 
Low Carb Veggies
Although some vegetables aren't considered "high carb", they all fall into the carbohydrate category. So, when sticking to a low carb meal plan, it's important to know which low carb veggies are ok and which to avoid. 
I love using low carb vegetables in my recipes for added nutrients and flavor. This low carb chicken casserole contains leeks and broccoli, here's their nutritional breakdown: 
Broccoli: 1/2 a cup chopped had 2.9 g of carbs and 1.1 g of fiber
Leeks: 1 leek has 12.6 g of carbs and 1.6 g of fiber
If you're interested in making a no carb chicken casserole, steer clear of low carb vegetables. 
Low Carb Milk
Traditional casseroles use cow's milk to add that creamy texture, which isn't a low carb shopping list ingredient. Luckily, there's a delicious low carb milk alternative we can use: heavy cream!  
Low Carb Greek Yogurt
If you follow my blog, you know how much I love low carb Greek yogurt—somehow, this ingredient complements both sweet and savory dishes! It adds a perfect creamy texture to all sorts of meals, such as this low carb chicken casserole! 
Save Your Favorite Recipes!
Create an account and save all your favorite recipes for easy access!
Read the label to make sure you're buying low carb Greek yogurt! (many products call themselves Greek yogurt when they aren't!) 
Low Carb Cheese
Sticking to low carb foods is easy when you've got low carb cheese as your secret weapon! In this low carb cheesy chicken casserole, cheese melts over the top to bring the ingredients together into one, ooey gooey masterpiece. 
Pork Rinds
Pork rinds are definitely NOT for everyone! I'll be honest, I wasn't a fan until I realized the crunch factor they bring to low carb meals, without any carbs! Now, I'll never turn back.. 
If they freak you out, try some finely chopped low carb nuts. Their natural crunch and flavor is hard not to resist! 
Low Carb Casseroles, Low Carb Meal Prep Tips!
One of the biggest tricks I've learned along this journey is that low carb meal prep is key to staying on track! With that, I've also found low carb casseroles are one of the easiest ways to make this happen. 
This low carb chicken casserole, like many casseroles, comes together in a snap. 
A great tip is to bake a few low carb casseroles on the weekends in your downtime, then you'll have your pick of delicious casseroles to eat throughout the week. If you're making multiple casseroles, choose a variety or proteins and veggies so you don't get tired of your choices: for example, make a low carb broccoli casserole and a low carb cheeseburger casserole!
If you can't finish the entire casserole before its expiration date, then freeze individual portions by simply: 
Allowing the casserole to cool, then slice and individually baggie each portion (labeled with the dish's name and date). The portions you'll eat within a few days go into the fridge while the rest get placed in the freezer. 
In a few weeks, when you've got nothing planned for dinner, simply place a potion on a baking sheet and cook in the oven! 
Another tip to shave off some time when cooking low carb chicken dinner recipes is to purchase cooked ingredients. In this low carb chicken casserole, try using leftover chicken, or buying cooked chicken (Trader Joes and Costco both sell it!). Low carb leftover rotisserie chicken recipes can save time and money!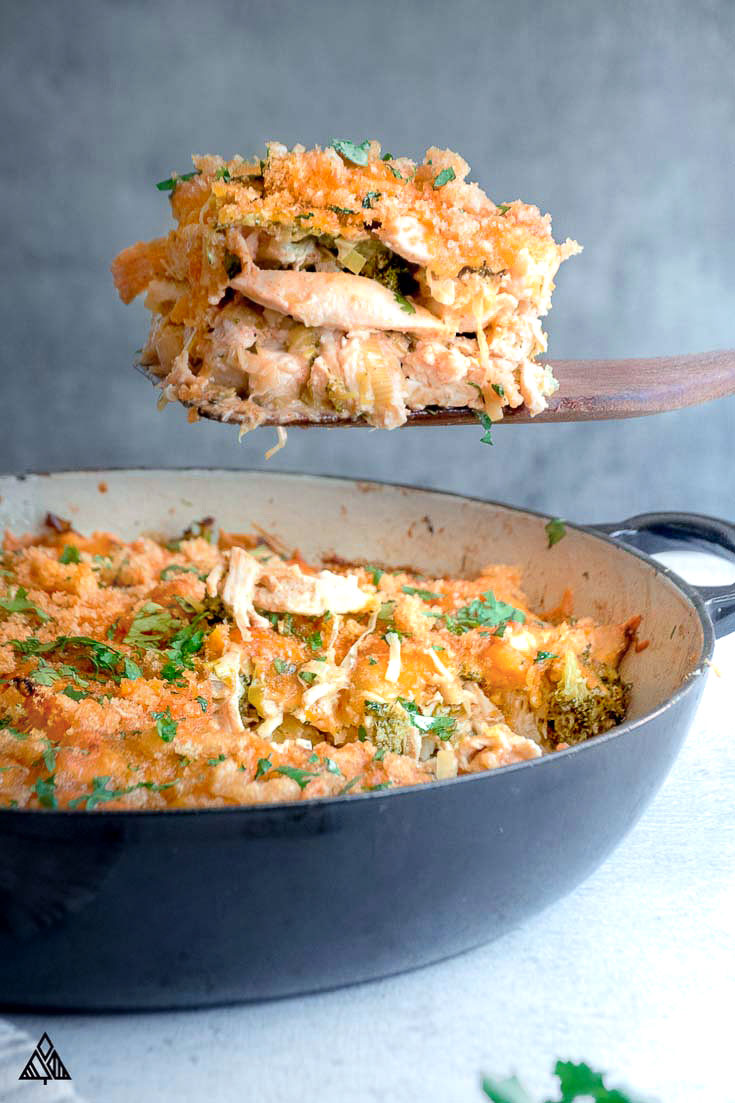 Get Creative with Keto Casseroles
There are a billion keto casseroles you can get cooking! If you'd like to get creative without a recipe, use the ingredient recommendations above as your guide: noodles, starchy veggies and cow's milk are no's. While low carb veggies, cheese, and protein are a go! 
You can bake just about anything in a casserole dish, from low carb tuna casserole to a low carb taco casserole to a low carb Mexican chicken casserole. 
If you're looking for a delicious breakfast idea, try one of my crustless quiche recipes, baked in a casserole dish for a low carb egg casserole! 
Low Carb Chicken Casserole
Alright friends, I can't wait to hear what you think about this low carb chicken casserole recipe! 
If you're anything like me, a recipe with more than two instructions gets a little confusing—my goal was to create a low carb chicken casserole recipes with pictures to help, so I hope the photos above do just that! Enjoy!! 
Low Carb Chicken Casserole
Get the oven ready, we've got an easy, cheesy, creamy low carb chicken casserole dish coming in hot, and the whole family is going to LOVE it!
Ingredients
1 1/4

Pounds

Chicken Breast

cooked

2

Cups

Broccoli

broken into small pieces

1

Leek

sliced

1 1/2

Tablespoons

Butter

1/2

Cup

Greek Yogurt

make sure it's low carb and high protein, I use Fage

2

Teaspoons

Ground Cumin

2

Teaspoons

Smoked Paprika

2

Teaspoons

Ground Garlic

1/4

Cup

Heavy Cream

2

Cup

Cheddar Cheese

1

Ounce

Pork rinds

crushed , place rinds in a ziplock baggie, sip the baggie, and crush using a rolling pin until they're bread crumb size

2

Teaspoons

Salt

1

Teaspoon

Pepper
Instructions
Melt butter in a large, pan (oven safe pan if you'd like to save dishes) on medium-low heat. Add leeks and broccoli, and slowly cook slowly until broccoli become soft and leeks are translucent. Once cooked, place these veggies in a large bowl.

Dice or shred your chicken breast—add to the bowl.

Add Greek yogurt to the bowl and stir until well incorporated.

In a small bowl, mix heavy cream and spices.

Place chicken/veggies in pan (I used the same one I cooked the veggies in). Pour heavy cream over the top. Sprinkle with cheese, then sprinkle with crushed pork rinds.

Place in the oven and bake for 20 minutes, or until the cheese begins to brown on the edges. Take out, and cover with chopped cilantro. Allow to cool before serving. Enjoy!
Notes
To cut out more carbs:
Use sour cream instead of low carb Greek yogurt
Cut out the leeks
Nutrition
Calories:
386
kcal
|
Carbohydrates:
7
g
|
Protein:
35
g
|
Fat:
23
g
|
Saturated Fat:
13
g
|
Cholesterol:
126
mg
|
Sodium:
1173
mg
|
Potassium:
555
mg
|
Fiber:
1
g
|
Sugar:
2
g
|
Vitamin A:
1425
IU
|
Vitamin C:
29.9
mg
|
Calcium:
334
mg
|
Iron:
1.9
mg
©Little Pine Low Carb. Content and photographs are copyright protected. Sharing of this recipe is both encouraged and appreciated. Copying and/or pasting full recipes to any social media/website/blod is strictly prohibited.
Reader Interactions