Introducing the low carb peanut butter smoothie that tastes more like a Reeses peanut butter cup than a low carb smoothies recipe!
This low carb recipes about to be your new fav, because it's creamy, decadent and delicious, takes 5 minutes to make and is perfect for low carb breakfasts.
It's one of the most cravable low carb drinks to curb your chocolate/sweet tooth cravings — Enjoy your decadently creamy low carb peanut butter smoothie a handful of ways (recs below) for low carb meals you'll never tire of.
Are you drooling yet??? Let's get started!
[no_toc]
How to Make a Low Carb Peanut Butter Smoothie
Making this low carb peanut butter smoothie is ridiculously easy…
Just toss your ingredients into the blender and blend away!
Now, I know this may sound silly, but it's important to layer your low carb peanut butter smoothie ingredients in a specific order, so the ingredients don't get caught under the blade of your blender and jam up.
Here's the order I use:
Liquids (milk, water, low carb Greek yogurt)
Powders (protein powders, cocoa powder, etc)
Smaller Stuff (small pieces of fruits/veggies)
Bigger stuff (frozen fruit, veggies, or ice)
Low Carb Breakfast Smoothie Ingredients
One of the best things about this low carb breakfast smoothie is that you can use a variety of ingredients to create whichever flavor you prefer!
Here are the base ingredients to get started with:
MILK
I recommend using canned full fat coconut low carb milk — it cranks up the fat content, as well as the creaminess in this low carb breakfast smoothie. Almond milk, coconut milk or half almond milk / half heavy cream work as well.
If you're using a light almond or coconut milk, use that instead of water in the recipe below.

If you're using canned coconut milk, keep in mind these products rarely contain stabilizers, which means the milk and cream will separate. So be sure to shake the can vigorously before opening it, and smooth out any additional clumps with a fork.
COCOA POWDER
Bring on that chocolate-y flavor! Opt for dutch process cocoa, as it's significantly less bitter than regular cocoa powder, and will add more decadent, chocolatey flavor to your smoothie.
ERYTHRITOL
The sweetness in our low carb peanut butter smoothie comes from erythritol, my favorite of the keto sweeteners.
AVOCADO
The avocados will add a smooth texture, as well as healthy fats and fiber. Opt for haas avocados, as they're higher in fat and creaminess when compared to Florida avocados — trust me, it makes a HUGE difference in these smoothies!
SEA SALT
Believe it or not, salt plays a BIG roll in our low carb peanut butter smoothies, as it intensifies the sweetness of chocolate. If you don't believe me, check out the labels on any chocolate bar — salt is always an ingredient. Now, sprinkle it in!
PEANUT BUTTER
What's a low carb peanut butter smoothie without PB?! Read product labels to ensure the product you buy is low carb peanut butter, as many products contain added sugar.
VANILLA, WATER + ICE
Basic low carb shopping list items, but necessary for smoothie perfection.
Save Your Favorite Recipes!
Create an account and save all your favorite recipes for easy access!
If you don't have some of these ingredients, feel free to experiment with the variations below…
Low Carb Protein Shake + Other Variations
From mixing up a low carb protein shake, to adding in your favorite ingredients, there are a billion ways to make this low carb peanut butter smoothie truly yours!
Here are a few ideas using tasty low carb foods:
MORE PROTEIN!
If you're looking for a high protein breakfast to help kick start the day, simply swap in low carb protein powder instead of cocoa powder and erythritol.
Be sure you find the best tasting protein powder for you, as a bad tasting protein powder can easily ruin the flavor of your low carb peanut butter smoothie.
ADD FRUIT.
There are a handful of tasty low carb fruits that compliment this smoothie — from strawberries, to raspberries, to blackberries. If you'd like to add some in, then by all means!
VEGGIES.
I like throwing in a handful of mild tasting low carb vegetables to add some greens to my morning routine. Kale, spinach and swiss chard are my faves, their flavor will be masked by the sweetener!
Pro tip: stash a baggie of greens in the freezer so they're nice and cold for you low carb peanut butter smoothie!
SMOOTHIE BOWLS.
A super easy variation to this low carb peanut butter smoothie is to turn it into a smoothie bowl. Just add less liquids, top it with low carb granola, and eat it with a spoon!
More Low Carb Smoothies to Sip On…
Can't get enough of these dessert-like low carb smoothies? Me neither…
Here are a few tasty options that'll quench your thirst and sweet tooth cravings all in one easy recipe: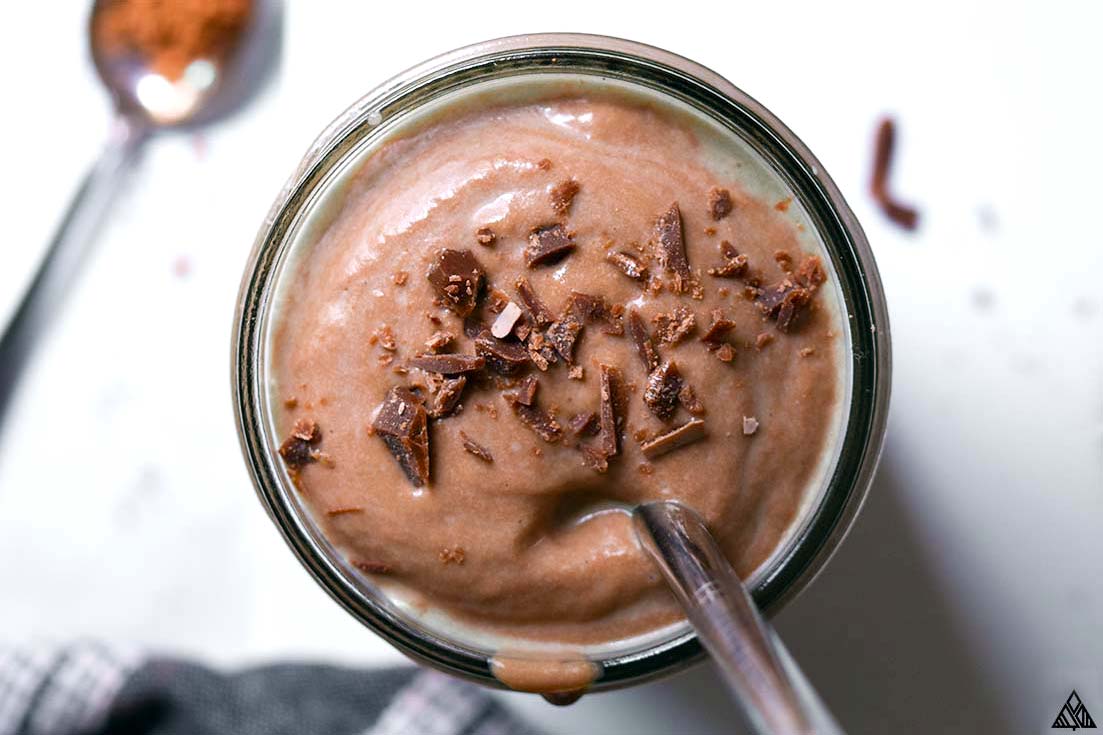 Hope you enjoy this delicious low carb peanut butter smoothie as much as I do! Let me know in the comments below how your smoothie turned out, and any of the variations you tried. Enjoy!
Low Carb Peanut Butter Smoothie
This decadent low carb peanut butter smoothie has a smooth, velvety texture and a rich creamy flavor that taste like Reese's peanut butter cups!
Instructions
Add ingredients to a blender (in the order listed above) and blend to combine.

Pour into 2 glasses and enjoy!
Notes
Nutritional information is based on 1/2 of this recipe
*Be sure to break up any clumps in your canned coconut milk before adding them to the blender!
**Dutch process is significantly less bitter than regular cocoa powder, and will taste better in this smoothie.
***Haas avocados
are higher in fat and creamier than Florida avocados, they're WAY better (in my opinion).
Nutrition
Calories:
328
kcal
|
Carbohydrates:
15
g
|
Protein:
7
g
|
Fat:
30
g
|
Saturated Fat:
15
g
|
Polyunsaturated Fat:
3
g
|
Monounsaturated Fat:
4
g
|
Trans Fat:
0
g
|
Cholesterol:
0
mg
|
Sodium:
19
mg
|
Potassium:
583
mg
|
Fiber:
8
g
|
Sugar:
3
g
|
Vitamin A:
73
IU
|
Vitamin C:
7
mg
|
Calcium:
23
mg
|
Iron:
4
mg
©Little Pine Low Carb. Content and photographs are copyright protected. Sharing of this recipe is both encouraged and appreciated. Copying and/or pasting full recipes to any social media/website/blod is strictly prohibited.
Reader Interactions