When my alarm clock goes off in the morning, I don't get excited about the work I have to do that day…
How beautiful it is outside… or my afterwork plans.
That all comes second.
I get excited about my Chai Tea Latte!!!
The cinnamon, the ginger, the sugar… Yum 🙂
The second my eyes open, I hop out of bed, run downstairs and turn on the kettle.
I pace back and forth waiting for the water to boil, prepping everything I possibly can so that I can have a taste of my beloved chai, ASAP.
If it's not obvious, I'm addicted…
Close friends and family know not to strike up a conversation or ask anything of me before I've had my chai tea.
Yes, I am aware that there are health related issues with caffeine, but it isn't just the caffeine I'm hooked on. It's just tasty. Sometimes I dial it back and use decaf.
Kefir Chai Latte
---
My love for chai is heightened by the warm comfort I get when drinking a deliciously spicy/cinnamon infused tea. I swear it really helps me get my day going in the wee hours of a cool morning.
Another quirk, I only like my homemade chai teas.
Store bought chai mixes, or chai at coffee shops just don't do it for me because they typically have more added sugar than caffeine. Hey, if I wanted a candy bar for breakfast I would just eat that!
At this point I consider myself a chai tea connoisseur…
I don't mean to brag, but I feel I've tried close to every chai tea product on the market (this is a huge exaggeration as there are many chai teas I'm still dying to try!)
I have experimented trying to find healthy/yummy ways to make my beloved drink as delicious and nutrient dense as possible!
My chai tea preferences have gone through an evolution…
Save Your Favorite Recipes!
Create an account and save all your favorite recipes for easy access!
I started with just a simple chai tea bag.
Then I tried adding store bought almond milk.
Once I read the ingredients in said almond milk, I quickly switched to homemade almond/coconut milk (get the recipe here). My homemade recipes only contain almond/coconut and water (as it should be!), whereas the store bought products contain many thickeners, emulsifiers and synthetic vitamins (read more here!)
Although I absolutely love my homemade coconut milk, and would happily drink it in my chai tea everyday, I stumbled on a product called kefir…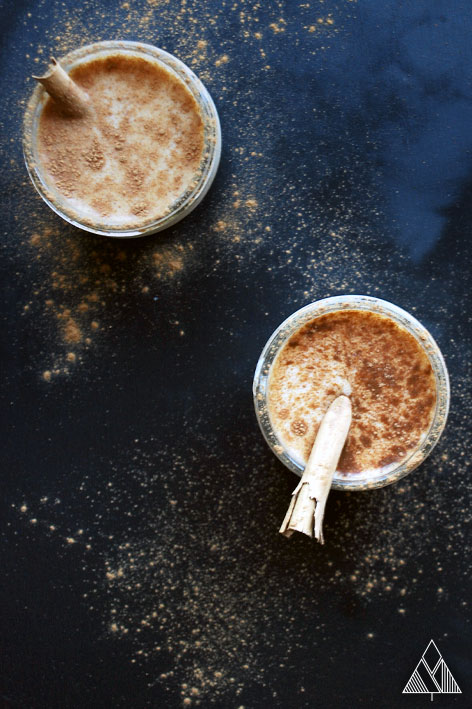 If you have been reading my blog for a while, you know I have always had stomach issues.
At first I attempted cutting out trans fats, then it was gluten, then dairy. I mean I pretty much had to cut out every food group and add it back in to figure out what I could and could not eat!
Eventually I tried a daily probiotic supplement, which seemed to help a lot with my stomach pains and messed up digestive system.
Every once in a while I would eat something that would send me straight to bed with a stomach ache for the rest of the day!
I wanted to try an even stronger probiotic than I had before in the hope that it would help balance my digestive system.
Coincidently, I stumbled upon kefir and found that it is one of the most probiotic rich foods out there. I was so in!
Probiotics are often suggested by doctors for people with digestive issues.
They contain the "good" bacterias and are said to balance the good and bad bacterias in our guts.
They also help to reduce the amount of bad bacteria living in our systems, which is huge because "75% of your immune system is housed in your digestive system" (source).
Therefore: A Healthy Gut = A Healthy Life!
After I started drinking kefir consistently in the mornings, I felt like I'd never had stomach and digestive issues. I could eat or drink anything I wanted! (I didn't though, I've been scared by one too many bad experiences).
My digestive system felt like it got a fresh start, and I felt internally healthy!
Although I miss my warm chai latte with delicious coconut milk, I feel way better after drinking my kefir chai. It's so worth it!
'
Kefir Chai Latte
What is your favorite way to drink kefir? What is your favorite chai latte recipe? Let us know below so we can try it 🙂
Kefir Chai Latte
Ingredients
8

Ounces

Kefir

either store bought or homemade

2

Chai Tea Bags

1

Tablespoon

Agave Nectar

1

Teaspoon

Vanilla

1

Teaspoon

Cinnamon

sprinkle cinnamon on top

2

Teaspoons

Freshly Ground Ginger

1/2

Cup

Boiling Water
Instructions
Place the two tea bags in a small mug.

Pour just enough water into the mug to cover the tea bags (there should be hardly any water in here). Cover the top of the mug with a plate to help the tea bags to steep.

Let the tea bags sit for about 5 minutes.

Pour the Kefir into your drinking glass.

Add the Agave Nectar, Cinnamon, and Ginger. Stir.

After the tea is done steeping, take out the tea bags and pour the contents of the mug into your kefir mixture.

Stir to combine these ingredients.

Decorate your cup with sprinkled cinnamon or a cinnamon stick, and enjoy!
Nutrition
Calories:
236
kcal
|
Carbohydrates:
32
g
|
Protein:
7
g
|
Fat:
7
g
|
Saturated Fat:
4
g
|
Cholesterol:
28
mg
|
Sodium:
120
mg
|
Potassium:
52
mg
|
Fiber:
1
g
|
Sugar:
26
g
|
Vitamin A:
465
IU
|
Calcium:
304
mg
|
Iron:
0.8
mg
©Little Pine Low Carb. Content and photographs are copyright protected. Sharing of this recipe is both encouraged and appreciated. Copying and/or pasting full recipes to any social media/website/blod is strictly prohibited.