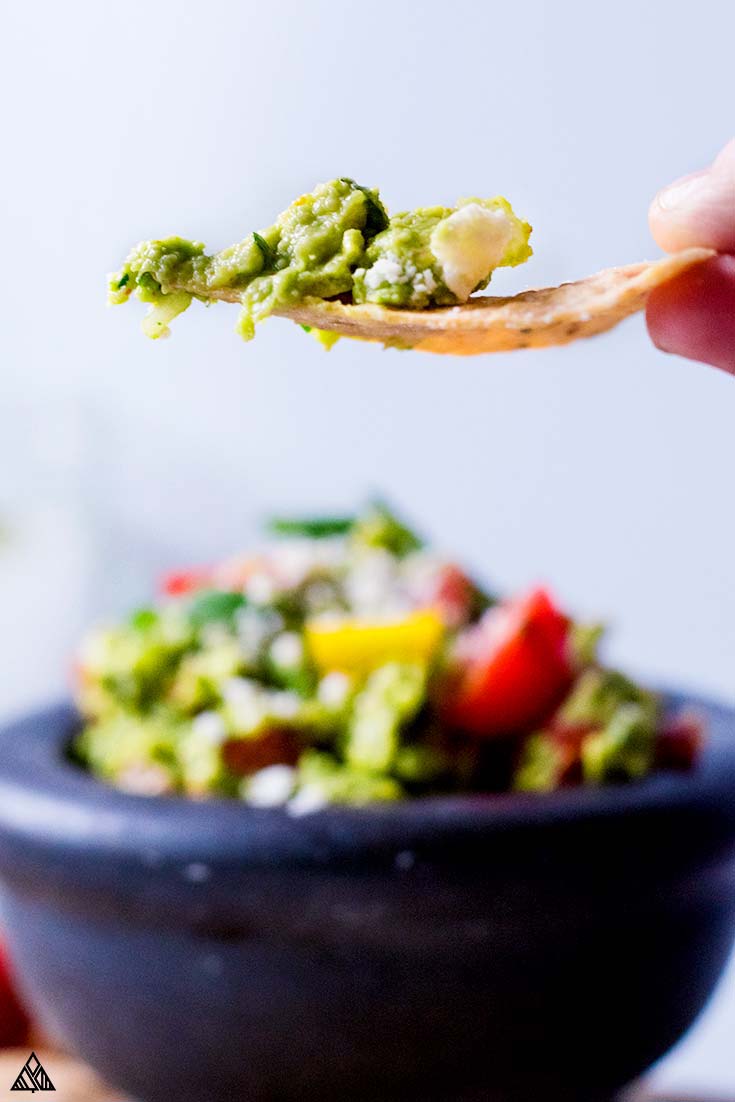 If you're looking for a tasty snack, appetizer, or topping for pretty much any meal, then holy guacamole, this is the recipe for you!
Because this isn't just any old guacamole recipe — it's the perfect blend of avocados, herbs and mix in's: a little lime, a little onion, of course some cilantro, and the perfect blend of spices. It's so delicious, I use it for low carb breakfast, low carb snacks, and low carb dinners — We can't get enough in our house…
Guarantee, no matter how many guacamole recipes you've taste tested, this one will be an utter delight for your taste buds! So let's get mashing:
How to Make Guacamole
Despite how flavor packed this recipe is, it comes together so quickly and easily, you could literally make it with your eyes closed! Although I don't suggest trying that…
Here's how to make guacamole:
Pick the right avocados.
This may seem like a no brainer, but to make an authentic guacamole recipe that's truly delicious, you want to grab the right avocados.
I always, always, always by Hass avocados! These are grown in California and are higher in fat and creamy flavor (when compared to Florida avocados). Trust me, Hass avocados are the way to go for any guacamole healthy recipe!
The next step is to make sure your avocados are perfectly ripe.
Firm avocados needs to ripen more before using them, and you definitely don't want to use avocado with black and brown speckles.
To make sure your avocado is just right, check under the small stem or "button" at the top of your avocado. If it pops off easily and is green underneath, then your avocado is ready to be used.
Pst, did you know avocado is a fruit? Check out my list of low carb fruits for more nutritional information on this awesome ingredient!

Cut avocados in half and remove the pit.
After slicing your avocado in half, gently separate the halves by twisting them apart.
Remove the pit by carefully tapping on it with your knife and popping it out (check out this video for a visual). This can be harder to do with extremely ripe avocados — you can also remove the pit with a spoon.
Scoop avocado meat into a large bowl, and congratulations! You've now completed the hardest step in making this simple guacamole recipe.
And Now, We Mash.
Add the lime juice, salt, cumin and cayenne pepper to your large bowl with the avocado, and mash these ingredients together with the back of a fork.
Not only will this combine our ingredients, it'll also create the texture. Keep this in mind as you mash you guacamole — the more you mash, the creamier your guac, the less, the chunkier — you get the picture.
Pst – Want to know how to make guacamole salsa? Dice your avocado instead of mashing it, easy peasy!
One final stir.
Last but not least, we'll fold the low carb vegetables into the mix.
Before adding these ingredients in, be sure you slice them into tasty, bite sized pieces — a large chunk of onion (cilantro or tomato) in a bite will throw off the flavor of this recipe! You want a little bit of everything in every scoop.
Homemade Guacamole Variations
Now that I've shared my favorite homemade guacamole recipe, it's your turn: your house, your chips, your dip, your rules! Spice it up, spice it down, stir in any low carb foods you may be craving — here are some variations you may want to:
Spicy Guacamole Recipe
I like to keep this recipe nice and mild, mainly because I'm is a wimp when it comes to spice, but also because this recipe has just the right amount of heat to appease all palettes.
If you're more of a spicy guacamole recipe fan, crank up the heat! Add a deseeded jalapeño, or two, some Tabasco, or more cayenne pepper.
Creamy Guacamole Dip
Since I use this recipe to top so many of my low carb meals, I love whipping up a creamy guacamole dip to add some variation.
Start with this recipe as your base, and gradually add in low carb Greek yogurt or sour cream — start with a little, and work your way up until you've reached your desired consistency and flavor.
Easy Guacamole With Protein
I got this easy guacamole idea from one of my favorite restaurant in Colorado. They specialize in fresh guac, which they make in front of you at your table (I know, I miss it everyday!).
You have the option of multiple mixins: bacon, ahi tuna, chicken, or carne asada — try this with your version for more complete low carb snacks, or low carb lunches!
Best Guacamole Uses
If you love this recipe as much as I do, you won't want it going to waste on a subpar recipe. Which is why in my kitchen, only the best recipes get to be topped with this best guacamole.
Here are some of those recipes:
Guacamole Recipe
Hope you enjoy mashing up my absolute favorite healthy guacamole recipe as much as I do! Let me know in the comments below what do you think of this recipe, and how you used it. Enjoy!
Guacamole Perfected
The BEST guacamole recipe you'll ever try is SO easy to make, comes together in 10 minutes or less and is actually healthy! Dig on in!
Ingredients
3

Haas Avocados

ripe

2

Tablespoons

Lime Juice

1/2

Teaspoon

Kosher Salt

1/2

Teaspoon

Ground Cumin

1/2

Teaspoon

Cayenne

1/2

Cup

Onion

diced

1/2

Cup

Tomatoes

seeded and diced

2

Tablespoons

Chopped Cilantro

1

Clove

Garlic

minced
Instructions
Cut the avocados in half and remove the pit.

Scoop the avocados into a large bowl.

Add the lime juice, salt, cumin, cayenne and give everything a stir.

Use the back of a fork to mash the ingredients together.

Fold in the onions, tomatoes, cilantro and garlic.

Serve cold and enjoy!
Notes
Serving size will vary based on the size of your avocados.
Nutrition
Calories:
171
kcal
|
Carbohydrates:
11
g
|
Protein:
2
g
|
Fat:
14
g
|
Saturated Fat:
2
g
|
Cholesterol:
0
mg
|
Sodium:
202
mg
|
Potassium:
536
mg
|
Fiber:
7
g
|
Sugar:
1
g
|
Vitamin A:
6.6
%
|
Vitamin C:
17.4
%
|
Calcium:
1.5
%
|
Iron:
3.9
%
©Little Pine Low Carb. Content and photographs are copyright protected. Sharing of this recipe is both encouraged and appreciated. Copying and/or pasting full recipes to any social media/website/blod is strictly prohibited.
Pst, if you're looking for the guacamole calories, they're listed below the recipe.