After making this incredibly delicious fajita stuffed chicken recipe, I'll never eat boring chicken fajitas again.
Because this fajita stuffed chicken is a protein packed meal, full of cheesy deliciousness, seared to perfection and sprinkled in spices. Not to mention, it's full of veggies even anti-vegetable peeps won't notice or mind.
It's one of those low carb recipes that's great for decadent dinners and low carb meal prep alike. So let's get to it friends, it's fajita stuffed chicken time…
How Do I Make Fajita Stuffed Chicken
This healthy fajita stuffed chicken recipe is as easy as low carb chicken recipes come. Whether you're searching for quick and easy low carb dinners, or a make ahead meal to pack in your low carb lunches, this fajita stuffed chicken is here for you!
For a perfect meal every time, stick to these tips:
Cook the low carb vegetables

before stuffing them inside your chicken — this helps to release water and enhance the flavor of your vegetables,

so don't skip this step!

Shredded pepper jack is life!

I love the flavor of shredded pepper jack, especially in this low carb fajita stuffed chicken recipe. Swap it with whatever cheese you have on hand — cheddar and mozzarella are both delicious in this dish.

Cut a small "pocket" in the chicken breast for your filling

. I do this by placing my hand over the top of the chicken breast and carefully cutting halfway through the chicken, only cutting into one of the edges. This keeps the filling "stuffed" inside.

Trust me, this sounds way more complicated than it is.

Season your fajita stuffed chicken. If you have extra low carb taco seasoning, use that to coat the chicken breast. Otherwise, the spices in the ingredient list below make for a delicious coating!
Be sure to pat the

fajita stuffed chicken keto 

seasoning

into the chicken for full flavor/crust effect.

Store your tasty fajita chicken bake in the fridge for quick and easy low carb meals!
Cooking Method: Seared + Baked Stuffed Chicken Breast
To save on dishes, I like to sear the chicken in a pan or skillet that can go into the oven. I know it seems weird to use two cooking methods for this baked stuffed chicken breast, but here's why:
Searing the this fajita stuffed chicken brings out the flavor and creates a sort of "crust" with our delicious seasoning — unfortunately, this cooking method won't cook our chicken all the way through. So, by placing our skillet into the preheated oven, we maintain that crispy edge and slowly cook the meat all the way through.
You can skip the searing step if you'd rather not stand over the stove — but your chicken will bake longer in the oven. Adjust accordingly.
It's important to note that all chicken breasts have different thicknesses, and all ovens operate at varying temperatures. Cut the thickest fajita stuffed chicken in half to make sure it's cooked all the way through before serving.
Why Stuffed Chicken Breast
I decided to make fajita stuffed chicken breast over thighs for 2 reasons:
Chicken breast is lower in fat compared to chicken thighs — to give you an idea, 3 oz of chicken breast has 3 grams of fat, while thighs have 12.5 grams of fat. Since we'll be stuffing quite a bit of cheese into each breast, I decided to save on fat with this ingredient for a more balanced meal.

(Check out the fajita stuffed chicken nutrition below the recipe)

Chicken breasts are larger.

I love chicken thighs, but they're significantly smaller — chicken breast allows us to stuff more of the delicious fillings into each serving.
Substitute for Stuffed Chicken Thighs
If you'd like to make fajita stuffed chicken thighs instead, no problem! Just adjust your bake time accordingly. Thighs take about — minutes to cook through and through. Start there and adjust your fajita stuffed chicken accordingly.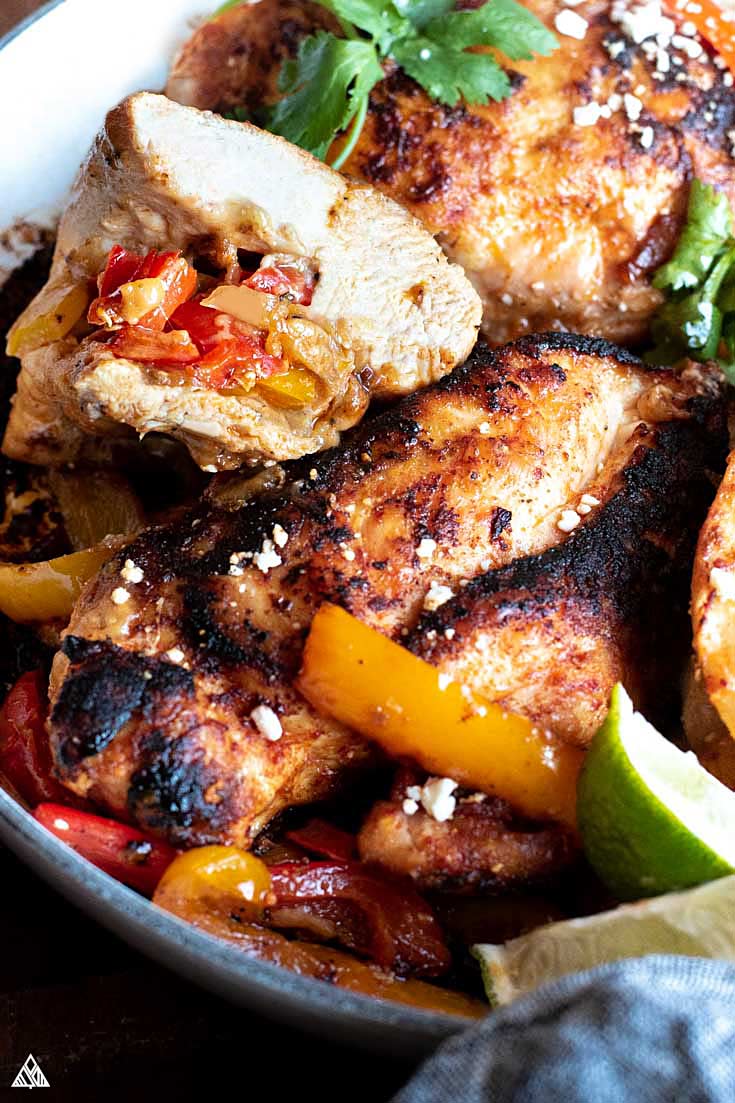 Variations: Cream Cheese Stuffed Chicken
It's only natural to stuff cream cheese inside chicken — if that's what you're craving, it's an easy adjustment! Instead of adding 2 cups of pepper jack, use 1 ½ cups + a ½ cup of cream cheese (we want to keep that gooey-ness from the shredded cheese. Think of it as the "glue" that holds our fajita stuffed chicken together!). Cream cheese stuffed chicken is delicious, duh!
You can also work up a chicken fajita stuffed pepper recipe by shredding your chicken and tossing it into baked bell peppers… I'll save those instructions for another recipe 🙂
Stuffed Chicken for Meal Prep
As I said before, this fajita stuffed chicken is the perfect dish for low carb meal prep! I like to double this recipe (less work in the long run), and portion it out for the work week. Whatever we don't finish in time gets frozen into individual resealable baggies (labeled with the name and date of course).
Reheating this fajita stuffed chicken tastes best in an oven or toaster oven. Be sure to leave your toppings off if you plan to reheat your chicken — avocado, sour cream and cilantro are best added after!
Fajita Stuffed Chicken Recipe
There you have it friends! The easiest, cheesiest fajita stuffed chicken recipe! Low carb or not, this recipe is a crowd pleaser — and I have a feeling it's about to become your family's new favorite!
I hope you enjoy, report back and let me know what you think in the comments below!
Fajita Stuffed Chicken
This Low carb fajita stuffed chicken breast recipe just became your new cheesy, zesty best friend, for decadant dinners and low carb meal prep!
Ingredients
2

Teaspoons

Salt

2

Teaspoons

Smoked Paprika

2

Teaspoons

Cumin

2

Teaspoons

Garlic Powder

1/4

Cup

Vegetable Oil

divided

2

Bell Pepper

diced

2

Cups

Onion

diced

1

Teaspoon

Salt

1

Teaspoon

Black Pepper

2

Cups

Pepper Jack Cheese

shredded

4

Chicken Breasts

boneless, skinless

3

Tablespoons

Vegetable Oil

Lime Juice on Top
Instructions
Preheat oven to 400 degrees.

In a small bowl, combine 2 teaspoons salt, smoked paprika, cumin, garlic powder and set aside.

Heat half the vegetable oil in a pan over medium heat. Add diced bell peppers and onions. Saute until onions are translucent.

Add cooked veggies to a large bowl with 1 teaspoon of salt, black pepper and shredded pepper jack cheese, and stir to combine.

Slice chicken breast in half to form a "pocket".

Sprinkle seasoning from the small bowl on top of each piece of chicken and pat into the chicken. Flip and repeat on the other side.

Stuff the cheese and veggie combo inside each chicken breast.

Heat remaining oil in a pan over medium heat.

Place chicken breast in the pan and sear each side for 5 minutes, or until the edges start to brown.

Place pan in the oven and continue to cook until chicken is no longer pink — this took me 20 minutes. If you're using a meat thermometer, the center of your chicken should be at least 165F.

Serve with cilantro, sour cream, or whatever topping you'd like. And enjoy!
Notes
Save some carbs: by cutting back on the veggies, or substituting for lower carb veggies.

Bake time will vary depending on how thick your chicken is, to be safe, cut through the center of your chicken to be sure it's cooked all the way through (no longer pink).

Recipe adapted from Delish.
Nutrition
Calories:
369
kcal
|
Carbohydrates:
6
g
|
Protein:
31
g
|
Fat:
23
g
|
Saturated Fat:
15
g
|
Cholesterol:
97
mg
|
Sodium:
1159
mg
|
Potassium:
591
mg
|
Fiber:
1
g
|
Sugar:
3
g
|
Vitamin A:
28.7
%
|
Vitamin C:
51.3
%
|
Calcium:
23.2
%
|
Iron:
7.4
%
©Little Pine Low Carb. Content and photographs are copyright protected. Sharing of this recipe is both encouraged and appreciated. Copying and/or pasting full recipes to any social media/website/blod is strictly prohibited.
Stuffed Chicken breast Recipes
Can't get enough of these stuffed chicken breast recipes? Psh, me neither! With how delicious and great for meal prep they are, I can't get enough. Check out these additional stuffed chicken breast ideas:
Stuffed Chicken Breast with Stuffing
That's right, make stuffed chicken breast with stuffing after Thanksgiving (or in the middle of summer if you're craving low carb stuffing!). It's a great way to use up those low carb Thanksgiving leftovers!
Spinach Stuffed Chicken
This classic variation will never get old with all the different spinach stuffed chicken recipes you can get creative with! Mozzarella, cream cheese, no matter how you make it, it's delicious!
Bacon Wrapped Stuffed Chicken
For a major upgrade to any chicken recipe, try bacon wrapped stuffed chicken! Out of this world. Not only does the bacon add more flavor, it keeps all the stuffing inside without any trouble.
Cheese Stuffed Chicken Breast
Easy, obvious, and a winner every time. Shred you favorite cheese and make cheese stuffed chicken breast — add whatever veggies and spices you're feeling inside. You'll love it!
Lasagna Stuffed Chicken
For an extra moist and easy low carb dinner, try lasagna stuffed chicken. If you're looking for extra protein, add some sausage in there, I won't judge!
Broccoli and Cheese Stuffed Chicken
Broccoli and cheddar — a match made in heaven — taste amazing stuffed inside of chicken! Think of this broccoli and cheese stuffed chicken like a low carb hot pocket!
Italian Stuffed Chicken Breast
My vote here is pepperoni, sausage, mushrooms and marinara? What will you bake inside you italian stuffed chicken breast?
Mozzarella Stuffed Chicken
Because I was craving that mushroom and thyme combo, I decided to bake them inside mozzarella stuffed chicken, and boy did I love it.
Spinach Artichoke Stuffed Chicken
Artichokes definitely don't get enough credit as far as low carb foods go! Add them to spinach artichoke stuffed chicken and you'll be thankful.
Stuffed Chicken Parmesan
The new, tastiest way to enjoy low carb chicken parmesan is inside out stuffed chicken parmesan — that way, your crispy crunchy crust remains crispy and crunchy, while the inside get moist and cheesy.