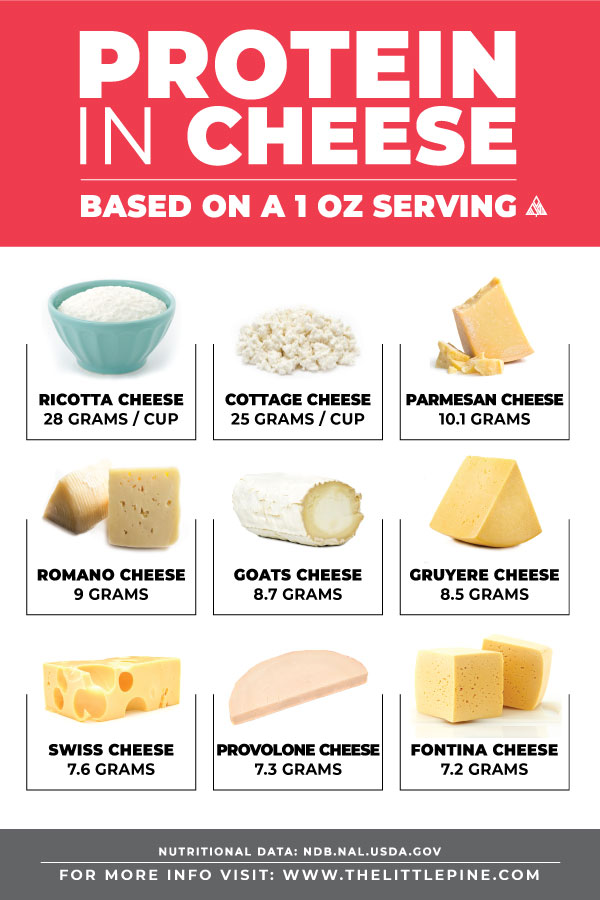 Cheese is a tasty treat that not only makes most recipes taste better, but is loaded in cheese protein that can help satiate us till the next meal. In fact, some cheese varieties have 10 grams of complete protein per serving, or more!
Check out out what you need to know about casein (cheese protein), the carbs in cheese, the fat in cheese and more below!
Grab a printable chart of cheese protein here (Plus, you'll be added to my FREE email subscriber list with weekly low carb recipes + exclusive low carb resources!)
As you may know, milk contains two types of protein: casein and whey. Plus a carbohydrate called lactose. During the cheese making process, both lactose and whey are eliminated while the casein coagulates to form cheese curds — resulting in a product with one cheese protein and hardly any carbs.
Cheese Protein, a.k.a. Casein
As you know, protein oversees powering our muscles and keeps the body's tissues, cells, and functions in tip-top shape, but each type of protein functions differently…
Cheese protein comes in the form of a complete protein called casein. Casein is a "slow protein", meaning it supplies a slow release of amino acids and sustains an increased level in the body for longer periods of time. For this reason, cheese protein (casein) is the preferred protein for bodybuilders.
Studies have also found that diets highers in this cheese protein have a faster metabolic rate and increased satiety — meaning it may be beneficial for weight management. On the other hand, some people have trouble digesting cheese protein — in some cases, it may cause inflammation, in others it can cause more serious stomach issues.
Is Cheese Protein or a Fat?
Cheese contains almost as much protein as fat. That said, each gram of fat accounts more calories when compared to a gram of protein — 1 gram of fat = 9 calories, while 1 gram of protein and carbohydrate = 4 calories.
Is cheese protein or fat also varies depending on the cheese. Full fat vs. fat free, parmesan vs. cheddar — there are many variants affecting cheese protein, so it's best to pick a cheese and check its nutritional information.
Top 10 Protein in Cheese Sources
Which cheese is high in protein? Stick to these highest protein in cheese source to get the most bang for you cheese protein buck! Here are the top 10 choices based on 1 oz. servings:
Monterey or White Cheese Protein: 6.9 grams

Fontina Cheese Protein: 7.2 grams

Provolone Cheese Protein: 7.3 grams

Swiss Cheese Protein: 7.6 grams

Gruyere Cheese Protein: 8.5 grams

Goats Cheese Protein: 8.7 grams

Romano Cheese Protein: 9 grams

Parmesan Cheese Protein: 10.1 grams

Cottage Cheese Protein: 25 grams / 1 cup

Ricotta Cheese Protein: 28 grams per cup
In case you're curious about the most popular of cheeses, cheddar cheese protein = 6.5 grams.
What you Should Know About Low Fat Cheese
Reduced fat, or low fat cheese is made using 2% milk, which may yield a cheese with a rubbery texture lacking that beloved aged flavor. As with most low fat products, be sure to check the nutrition label to ensure the carbs and protein haven't be affected by reducing the fat content. (This is specific to those sticking to low carb foods. Sometimes low fat foods are higher in carbs)
Save Your Favorite Recipes!
Create an account and save all your favorite recipes for easy access!
Least Amount of Carbs in Cheese
The best news in the world for those of us sticking to a low carb shopping list is that there are hardly any carbs in cheese! Check out some of these popular varieties and how low in carbs they are:
Parmesan cheese

protein is 10 grams of carbs per ounce, with only

only .9 grams of carbs!
Burrata has 0 grams of carbs

per ounce

Generally speaking,

most cheese have less than 1 gram of carbs per ounce

, the exceptions are:

American, Feta, Gjetost, Gorgonzola, Ricotta, and Cottage Cheese
How to Avoid Cheese Carbs
Some cheeses are higher in cheese carbs than others. Be leery of specialty cheese with sugary add ins, such as wine soaked cheese, or cheese with chocolate and dried fruit added. Also note that Norwegian goat cheese (gjetost cheese) is particularly high in carbs — in fact 1 oz has 12 grams of carbs!
When it comes to cheese and carbs, the problem is usually what we eat cheese with — so if low carb is your goal, try some of the suggestions below instead…
High Protein, Low Carb Cheese Recipes
If you're looking for ways to add a little more cheesiness into your life, there are a billing low carb recipes you can work with. In fact, low carb cheese is at the core of most of my favorite of low carb meals — here are some ideas to get you started:
Bottom Line, Is Cheese Bad for You
As I mentioned above, one of the biggest problems with cheese is how we eat it. Most commonly, cheese is melted on bread or sprinkled on nachos — both high carb, high fat choices without much nutritional value.
On its own, cheese is a high calorie, high fat food that tends to be high in sodium. On the other hand, cheese contains calcium, a complete cheese protein, and CLA (conjugated linoleic acid). Needless to say, cheese has both pro's and con's. Is cheese bad for you depends on you and your dietary goals.
Conclusion
Cheese has got a lot going for it: it's high in cheese protein, high in calcium, low in carbs, and is ridiculously delicious, what more could you ask more? I hope this article helped shine light on the varying amounts of cheese protein so you can find which cheese works best for you and your diet!