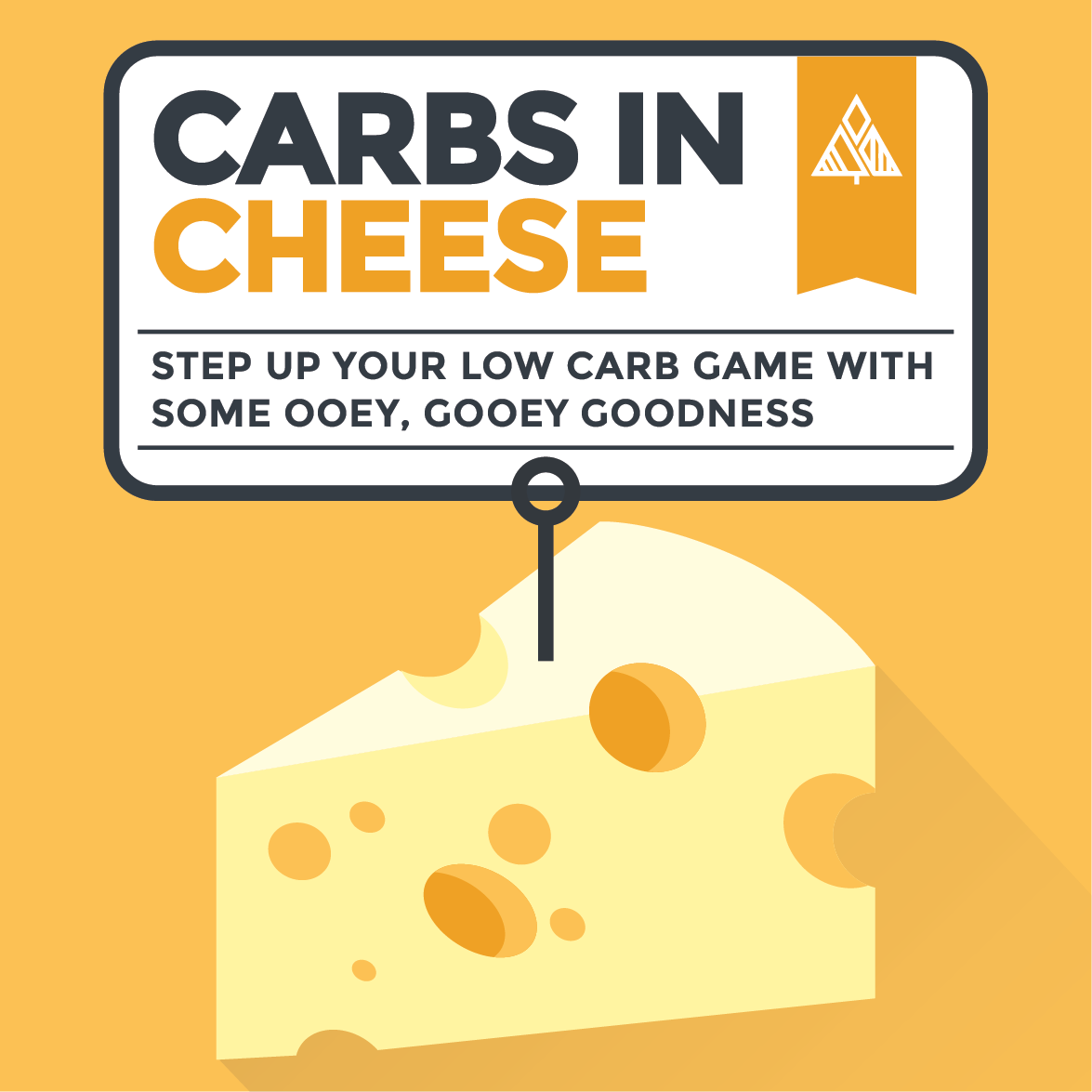 If you've got the low carb blues, I've got great news for you: they're hardly any carbs in cheese!
This low carb wonder isn't exactly the picture of health food in many circles—but for those of us sticking to low carb foods, carbs in cheese makes it worthy of a second look.
But before you go on a cheese bender, here's the breakdown on carbs in cheese and how it may or may not fit on your low carb food list.
Use this table of contents to skip to the section you're looking for:
[toc]
Carbs in Cheese : The Cheesy Breakdown
Generally speaking, there're very few carbs in cheese. Some cheeses contain a lower carb content than other—use this list as your guide. The carb count for 1 oz of common cheeses are:
American Cheese: 2.4 grams of carbohydrates
Asiago Cheese: 1 grams of carbohydrates
Blue Cheese: 0.7 grams of carbohydrates
Brie Cheese: 0.1 grams of carbohydrates
Burrata Cheese: 0 grams of carbohydrates
Cheddar Cheese: 0.9 grams of carbohydrates
Colby Cheese: 0.7 grams of carbohydrates
Feta Cheese: 1.2 grams of carbohydrates
Fontina Cheese: 0.4 grams of carbohydrates
Gjetost Cheese: 12.1 grams of carbohydrates
Goats Cheese: 0.6 grams of carbohydrates
Gorgonzola: 2 grams of carbohydrates
Gouda Cheese: 0.6 grams of carbohydrates
Gruyere Cheese: 0.1 grams of carbohydrates
Havarti Cheese: 0.8 grams of carbohydrates
Manchego Cheese: 0 grams of carbohydrates
Monterey Cheese: 0.2 grams of carbohydrates
Mozzarella Cheese: 0.6 grams of carbohydrates
Muenster Cheese: 0.3 grams of carbohydrates
Parmesan Cheese, Hard: 0.9 grams of carbohydrates
Provolone Cheese: 0.6 grams of carbohydrates
Ricotta Cheese : 2.8 grams of carbohydrates
Romano Cheese: 1 grams of carbohydrates
Roquefort: 0.6 grams of carbohydrates
Swiss Cheese: 0.4 grams of carbohydrates
Regular Cottage Cheese, Creamed : 0.1 grams of carbohydrates
Nonfat Cottage Cheese, Creamed : 1.9 grams of carbohydrates
Regular Cream Cheese : 1 grams of carbohydrates
Nonfat Cream Cheese : 1.4 grams of carbohydrates
*Nutritional info in this post and this post's graphics are from the USDA Food Composition Databases, and has been rounded to the closest whole number
The exception to these cheeses are specialty cheeses, which often use ingredients such as wine, fruit, or chocolate—this will ultimately change the carb count.
Cheese Carbs
As you now know, there's a nominal amount of cheese carbs, despite the large percentage of carbs in milk—which come from milk's naturally occurring sugar called lactose.
During the cheese making process, lactose gets broken down into glucose, then lactic acid—resulting in an acidic tasting, low carb food!
Which is how the cheddar cheese carbohydrate amount, cream cheese carbohydrate amount and mozzarella carbohydrate amounts are able to stay so low, yet so flavorful.
PS: if you'd like to see some low carb milk options, check out our guide! Hint: lactose free milk doesn't mean low carb milk.
Low Carb Cheese
Without much lactose, we're left with tons of ooey gooey low carb cheese goodness to choose from. The lowest carb cheeses are:
Cheeses like goat cheese or brie only have about 0-0.1 grams per ounce.
Cheddar and blue cheese contain slightly more—0.7-0.9 grams per ounce.
Parmesan contains about 0.9 grams
Provolone and mozzarella contain about 0.6 grams per the same one-ounce serving.
Low Carb Recipes with Cheese
If you're reading this article, I assume we have two things in common: you're a low carb-er who loves cheese. So I thought I'd share with you a few of my favorite low carb recipes in which cheese in the star ingredient!
As far as low carb appetizers go, I love these parmesan crisps, as well as these low carb tortilla chips (hint: the base of the chips is cheese!). But sometimes, there's nothing better than some low carb crackers and sliced cheese.
On a cold day, I love low carb broccoli cheese soup. And on any day, I love crustless pizza or low carb quiche!
Cheese Protein
Cheese is derived from milk, which contains two types of protein: whey and casein. Whey is what separates from the cheese during the cheese making process, making casein the remaining cheese protein.
Casein: The Protein in Cheese
Casein, the protein in cheese, is a complete protein favored by body builders and athletes. It's been studied for its ability to prevent protein breakdown and as a potential aid in fat loss and muscle retention.
While whey is digested by the body without delay, casein functions as a time-release protein, which means it feeds your cells amino acids over a longer period of time.
How much Protein in Cheese
Protein content in cheese varies: for example, Parmesan contains nearly 11 grams of protein per one ounce serving, while gouda, fontina, Swiss, and provolone hover in the 7-7.5 gram range for the same amount.
At the lower end of the spectrum, regular cream cheese contains less than a gram per tablespoon. Check the infographic below for how much protein in cheese, based on whatever cheese you're craving.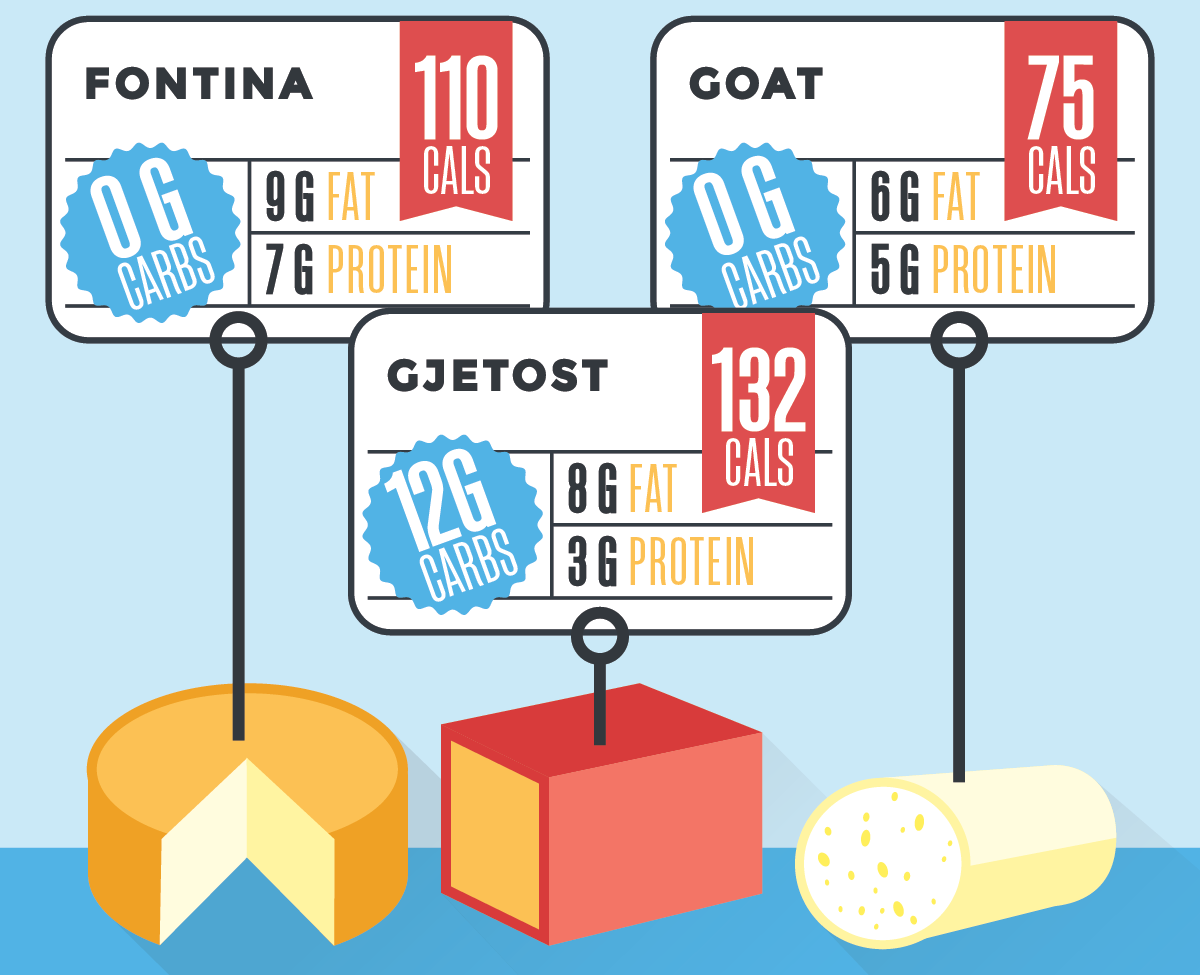 Fat in Cheese
The discussion about fat in cheese is full of conflicting information—so it's hard to say whether cheese is healthy or if it should be eaten sparingly…
Cheese contains saturated fat, which stems from animal sources like beef, eggs, and cheese. It was originally linked to heart disease and diabetes—however, recent studies have shown it may not necessarily be a full-blown nutritional evil.
According to The Heart Association only around 7 percent of your caloric intake should come from saturated fats. How much fat is in cheese depends on the type of cheese you choose…
Low Fat Cheese
According to Dr. Andrew Weil, "Soft French cheeses tend to be higher in fat, so eat them prudently – healthier options include organic, natural cheeses such as Emmental (Swiss), Jarlsberg and true Parmesan." Check out the graphic below for a look at low fat cheese.
Is Cheese Protein or Fat?
A common misconception, many people wonder is cheese protein or fat, or what the heck category does it fall into? Chalk it up to the lasting influence of the food pyramid, but cheese defies clear cut classification—and as you can see, it depends on the type of cheese and that cheese's macronutrient breakdown.
If your wondering is cheese a carb or fat, well it's safe to say it's more of a fat than a carb.
Is Cheese Bad for You?
So, the question remains: is cheese bad for you. Unfortunately, this is hard to answer, and depends on your body's needs and restrictions…
Pros:
Cheese is a low carb high protein food that just so happens to be rich in calcium.
One study found a link between high cheese diets and faster metabolisms—while another found a fatty acid (found almost exclusively in full fat dairy products) called trans-palmitoleic acid to reduce the risk of type 2 diabetes.
Cons:
The protein in cheese called casein may causes inflammation. Others may react to the lactose in cheese—although cheese is relatively low in lactose. In addition, some cheeses are high in sodium, saturated fat and calories.
Again, each body will react differently. This should go without saying, but If you have any sort of reaction or allergy, then carbs or not, steer clear of cheese!
Conclusion
If you're not lactose-intolerant or allergic—the low carbs in cheese can be the saving grace of a range of low carb meals.
Again, the carbs in mozzarella cheese versus the carbs in cheddar cheese might be a little different; but both can be an awesome component to your low carb meal plan!
Carbs in Cheese Infographic