Guys, have you ever wondered how to make almond milk yourself? Like how can an almond even be… milked? Awkward.
But let's be honest, fresh almond milk is expensive.
We're talkin' nine bucks at your local juice bar expensive. But when you try the cheap kind from the grocery store, it just doesn't taste as good. Not to mention, store-bought almond milk can contain ingredients that you definitely don't want to put in your body.
So, if you're down to learn how to make almond milk, you could save a lot of money and enjoy this homemade and refreshing beverage with just a few minutes and two simple ingredients! Did I mention how much tastier homemade almond milk is than store bought?!
Keep reading to learn how to make almond milk in the comfort of your own home…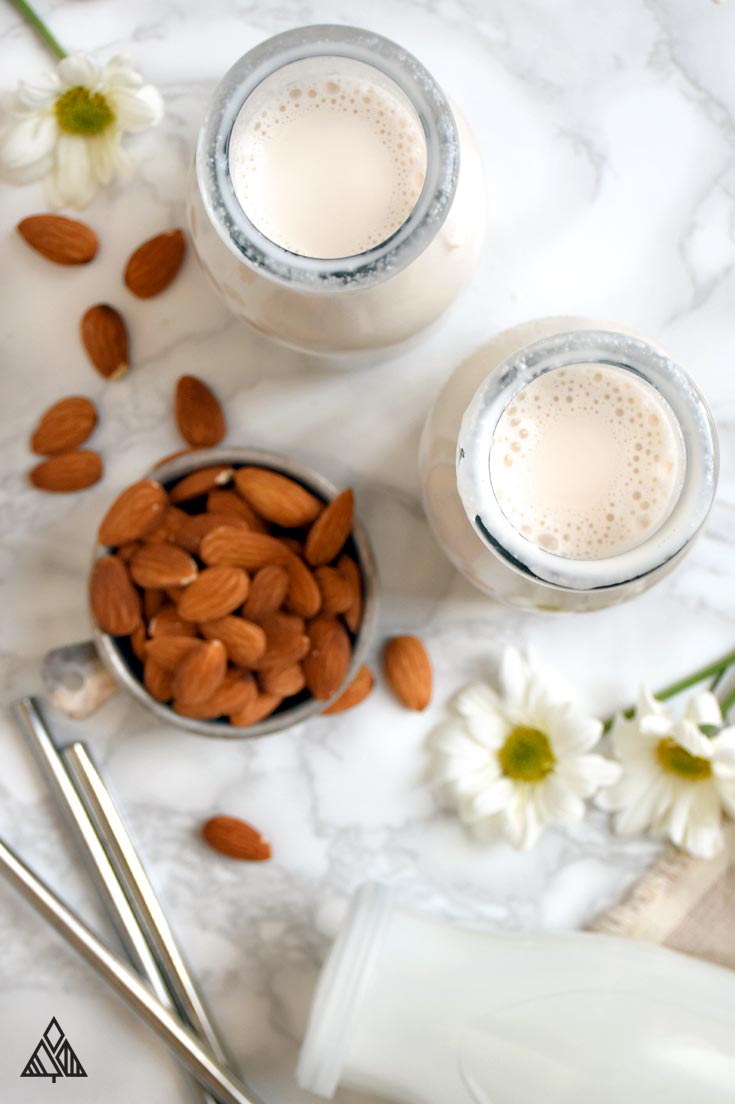 How to Make Almond Milk
Soak the Almonds
It's important to soak your almonds in filtered water 24-48 hours before beginning the milking process. This helps them break down easier and makes your milk more creamy!
It also helps to remove some pesticides and dirt left on the almonds.
High Speed Blenders
High speed blenders are the best for making smooth almond milk and getting the most out of your almonds, as you'll see by searching almondmilk recipe vitamix.
If you aren't using a high speed blender such as a Vitamix or Blendtec, make sure you run your blender long enough to blend your almonds thoroughly. Stirring regularly will also help your blender get the stubborn pieces.
I use a Blendtec. Yes, it was a splurge (although cheaper than a Vitamix) but I use it everyday in some form or fashion. Total game changer. Totally worth it.
Good-bye Cheese Cloth, Hello Nut Milk Strainer Bag
On the how to make almond milk youtube page, you'll find most people use cheese cloth, but I think using a nut milk strainer bag is WAY more efficient.
Nut milk strainer bags help to keep the almond meal from oozing out the sides as you're milking.
They're also reusable and will save you lots of money in the long run. Not to mention, the startup cost is cheap—a bag will cost you under $10, with countless uses. Cheese cloths is around $4/package—adds up quickly if making almond milk becomes part of your routine.
Make sure you clean your bag thoroughly after using to prevent mildew.
Refrigerate
Be sure to chill your almond milk before consumption for the best drinking experience!
What to do With Almond Pulp?
SO much can be done with your pulp so please don't throw it away! You can find many almond pulp recipes online to keep from wasting your leftovers. To get you inspired, here are a few ideas:
You can place on a baking sheet and make almond meal (which can typically substitute almond flour in baking recipes, as long as you don't mind the color of the almond meal)
Throw the pulp into a low carb smoothie for a little extra sustenance
Top your low carb yogurt with almond pulp
You can use the pulp as is in many recipes! Think low carb crackers, low carb pancakes, you name it.
How do you Know When Almond Milk is Bad?
The value of homemade almond milk nutrition is so high because it's so fresh, and doesn't have all those added ingredients (like store bought brands do) to increase its shelf like.
So how long does homemade almond milk last? Because of how almond milk is made and how raw and natural it is, almond milk doesn't last much longer than 3-4 days.
You can always tell by the smell and taste of the milk. If something seems different, don't risk it.
Keep that in mind so you don't make too much, and remember, almond milk is the perfect snack for any time of day! Grab a piece of tape to label your glass so you know exactly how long you have to drink it.
How to Make Almond Milk Video
Check out this video for a visual guide on how to make almond milk:
Homemade vs Store Bought Almond Milk
Ok, you're sold. Homemade almond milk tastes better, is more nutritious, and is crazy easy to make, but how does it pencil out? Are you going to save money by making homemade almond milk?
I was curious myself, here's what I found:
One cup of raw almond = 4 cups, or 32 oz of almond milk.
According to the cheapest nuts I could find on Amazon, a 3 lb bag of Almonds is about $25. This 3 lb bag has roughly 9 cups of whole almonds, which means…
…for each 32 oz serving, your batch of almond milk costs $2.77.
On the flip side, let's check out store bought almond milk.
Buying in bulk will get you 6 boxes of 32 oz almond milk from Silk for $2.39 a carton.
Maybe not the deal of the century, but I think it's worth it.
How to Make Almond Meal From the Pulp
After you extract as much almond milk from the pulp as humanly possibly, you're left with a blob of ground almonds you probably want to throw away. Well don't, follow these super easy how to make almond meal instructions for an ingredient you can all to all sorts of low carb foods!
How to Make Almond Flour
As you probably know, most gluten free, paleo and low carb recipes call for almond flour, not almond meal. Follow these how to make almond flour instructions if that's what you're looking for — however, you can't make almond flour from almond milk pulp. The difference between these two ingredients is that almond flour has no skin, whereas almond meal contains small brown flecks of skin. If this doesn't bother you, then stick to almond meal!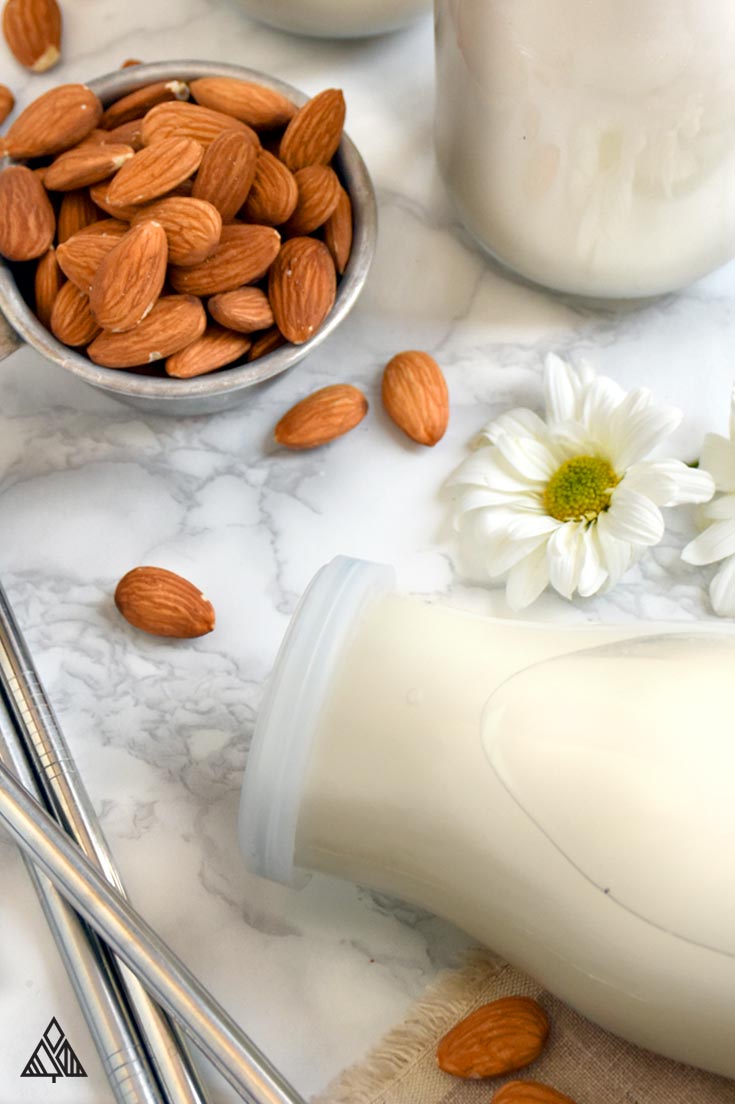 Congratulations, you're now an almond milk expert!
Are you excited to try out this fresh, healthy treat? Mastering how to make almond milk will be a great asset for your low carb food list. Almond milk is easy to make, so versatile, and just plain delicious.
It's a necessity for anyone allergic to dairy and a perfect snack to curb your cravings until your next meal. Did I mention it was super easy to make?
Now go nuts!
How to Make Almond Milk
This how to make almond milk recipe is absolutely delicious and WAY easier to make than you'd think—with just 2 ingredients, you'll be sipping on a glass of this amazing low carb milk in no time!
Print Recipe
Pin Recipe
Ingredients
1

Cup

Almonds

raw

4

Cups

Filtered Water

plus more for soaking

1/2

Teaspoon

Salt

*check out optional additions above
Instructions
Place almonds in a mason jar or container and cover with 1 inch of water. Cover the jar, and place in the fridge for 24-48 hours.

After they've soaked, drain and rinse almonds thoroughly.

Pour blended ingredients into cloth/bag. Gathered the edges of the cloth/bag around the almond pulp and squeeze the ingredients to let out as much liquid as possible.
Rate this Recipe
Nutrition
Calories:
205
kcal
|
Carbohydrates:
7
g
|
Protein:
7
g
|
Fat:
17
g
|
Saturated Fat:
1
g
|
Sodium:
303
mg
|
Potassium:
252
mg
|
Fiber:
4
g
|
Sugar:
1
g
|
Calcium:
102
mg
|
Iron:
1.3
mg
©Little Pine Low Carb. Content and photographs are copyright protected. Sharing of this recipe is both encouraged and appreciated. Copying and/or pasting full recipes to any social media/website/blog is strictly prohibited.
Low Carb Milk
Obviously, almond milk is a fantastic and delicious low carb milk. If you don't believe me, here's the nutritional breakdown:
One cup of Whole Milk:149 Calories
7.93 grams of Fat | 7.69 grams of Protein | 11.71 grams of Carbs
One cup of Almond Milk: 39 Calories
2.88 grams of Fat | 1.55 grams of Protein | 1.52 grams of Carbs

There are many other low carb milks if you aren't feeling as nutty as I am! In most recipes, these low carb milks can be used as dairy milk substitutes.
How to Make Coconut Milk
If you've already mastered the art of almond milk, challenge your milking skills by testing out my homemade coconut milk recipe!
Coconuts are well known for a variety of health benefits, so this recipe is definitely worth a try. We will walk you through the steps and teach you how to make coconut milk of your own.
And don't forget all the tropical mix-in possibilities! One sip and you'll feel like you're already at the beach. Aloha!
[no_toc]
Reader Interactions